Having good photographs of your home is more important than ever when you are trying to sell. Why? Most home searchers begin their approach on the internet. If they are not interested in what they see there, they will move on to the next possibility.
Once your home is ready for listing, a good realtor will recommend that you hire a professional photographer. Here at
Haley Epps Real Estate
in Kansas City, MO, we do. First impressions are important, and your listing photos must be top-notch!

Preparing your home to be photographed is not much different than what you are already doing to get ready to list it. Some of those mutual items include:
Decluttering your home
We all collect stuff. You do not have to get rid of all that stuff, but you are going to have to move a lot of it before the photographer comes and before you list it. Rent a storage unit for things you want to keep and have a sale or donate the rest, and that includes what is in the closets and cupboards.

As for things you need while you continue to live there, you will need to be able to store them neatly away. In the kitchen, for example, you may normally leave your toaster, blender, or coffee maker on the counter. No more. Put them carefully away in the cupboard and leave out the bare minimum.

In the entry and living room it is time to ditch the coat rack. Depending upon the season, either store coats in the entry closet or, if not currently needed, send them to the storage unit. Put away personal items such as family photos and mementos. Just leave furniture and lamps.

Treat your bedrooms similarly. Clear out the clutter, personal items, and knickknacks and leave the furnishings. All clothes belong neatly stored away in closets and dressers.

Tackling the bathrooms is important. All those toiletry items need to find a place away from the camera lens, in drawers or cabinets.
Pick up after the pets
While you love your pets, home seekers may not want to see cat hair or dog toys strewn throughout the living space. Find a place to put away pet bowls for the photo shoot and store them when listing your home. The same goes for any pet bedding. Have a fish tank? That's OK, just make sure it sparkles with no algae in sight.
Time to deep clean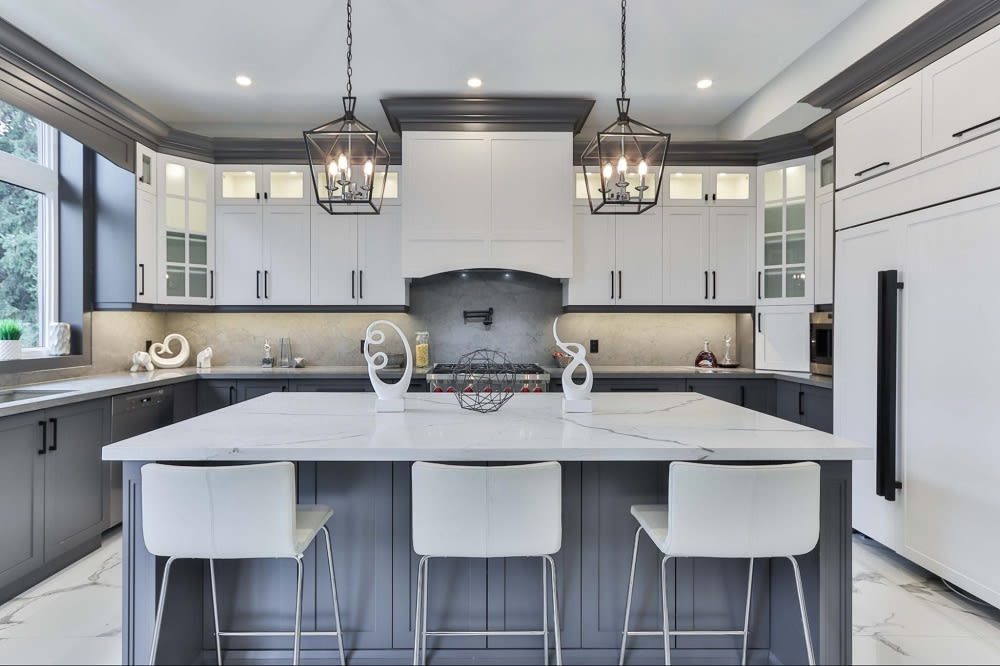 If you can, consider hiring a clean crew and one that is accustomed to cleaning before putting a home on the market. A professional crew can do what you can in a fraction of the time.

Whoever cleans will need to use some good old-fashion elbow grease and scrub every kitchen surface including the stovetop, oven, microwave, refrigerator, freezer, windowsills, faucet, and sink. Then tackle the cupboards, doors, door frames, and walls. Last but not least, clean the floor.

Similarly, in each bathroom the sink, shower, tub, toilet, faucets, handles, cupboards, windows, sills, and walls all need to be cleaned, followed by the floor. The chrome and tile should shine, and the grout should show no stains.

The living room, bedrooms, and other spaces should also have the walls cleaned along with the doors and door frames. Door handles and light switches should be washed until they shine. Floors should be vacuumed. Carpeting should be deep cleaned. Wood or linoleum flooring should be scrubbed.
Window cleaning, porches, and patios
Your windows need to be cleaned indoors and out. When the photographer comes, you will want window dressings to be open, allowing outside views to come through into the photos without any smudges or fingerprints.

Hose down porches and patios, and again, clear away any clutter. Put the barbecue away. Hide hoses. Consider getting the outside of your house pressure-washed.
Photographs that will help sell your home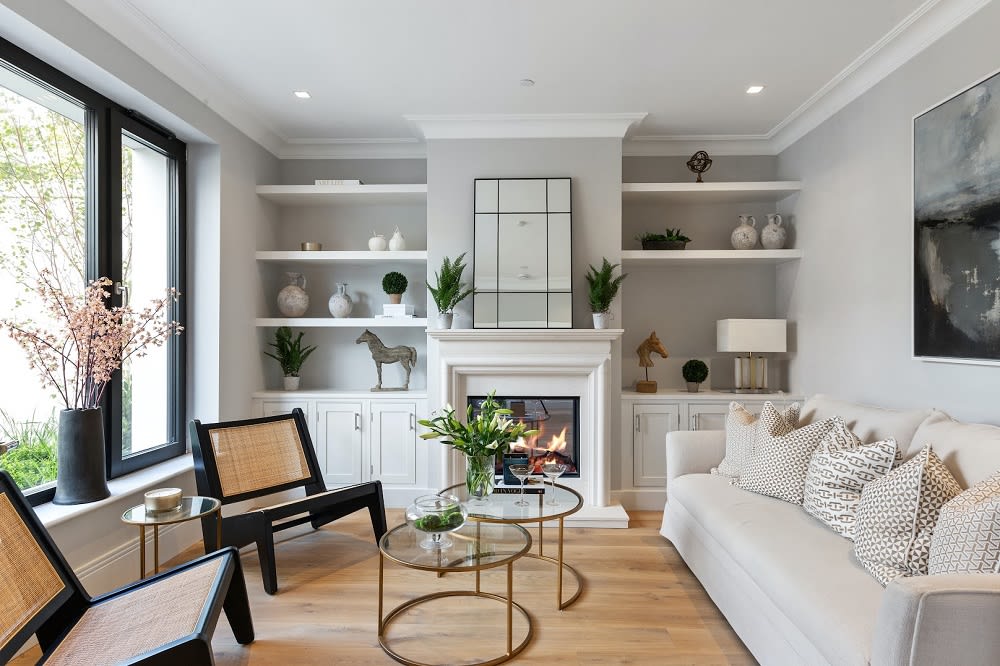 In 2020, 51% of homes sold were found by buyers on the internet, according to the
National Association of Realtors (NAR)
. That means more than half of homebuyers liked the photographs they saw enough to ask for a viewing of their soon-to-be new home. Those had to be enticing photographs!

You are through decluttering and cleaning, but before you call the photographer, you may want to call a professional house stager. Your realtor will likely suggest you do this before you list, so why not call upon a professional stager a bit early, before the photographer comes.

A stager may add some plants or flowers, a bowl of fruit, and some non-personal forms of artwork

Not every professional photographer is a good real estate photographer. You want to hire someone who specializes in real estate photos. They will know the best angles from which to photograph a room and the time of day for the best lighting. It will be up to you and your realtor to choose the rooms you want to focus on.
What are your home's best features?
Choosing the top features of your home can be what draws buyers in. Discuss this with your realtor. Also, search nearby listings and attend open houses to see what is being shown in the neighborhood. What will make your house stand out from the crowd is important.

Maybe you recently upgraded the family room or modernized your kitchen. Perhaps your fireplace is a focal point of your home. Whatever you and your realtor agree is your home's best feature will be the primary focus for the photographer as it will be the first photo shown on the multiple listing service database and anywhere else you advertise your home for sale.
Which angle of the room shows off the best view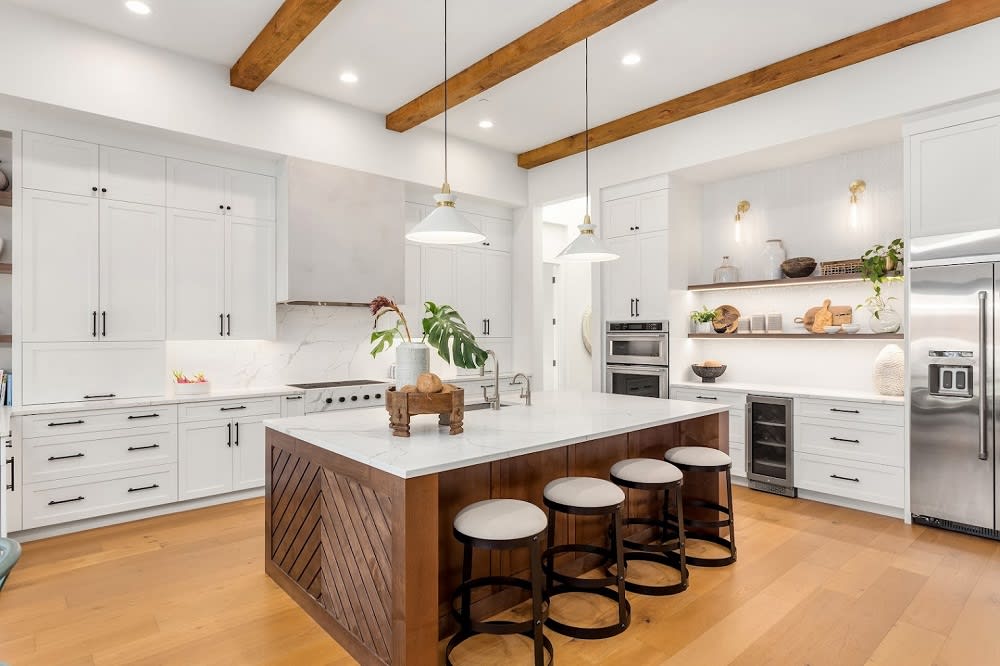 You will not be able to show off an entire room in one photograph, but you can reveal a lot. When photographed from a corner, not only will you capture most of the room, but it will appear larger. The photographer will choose the best lighting along with the best view of the room. Home lookers want to be invited into each room with each photograph they see.
What is outside the home also counts
Of course, potential buyers must like the interior of the house, but what is outside is also important. They want to see what the home looks like as you drive up. It is called curb appeal, so you should also have your garden ready for photos.

Secondly, the photographer will also be mindful of what appears outside a window. A room with a view should show off that view. A professional photographer will use natural lighting to allow the view in the photo while still focusing on what is inside.
Choosing listing photos
While your realtor will have promising ideas of what photos to include in your listing, you should have some input too. But remember, less can be more. While you want to show off your home, you also want the viewer to come away wanting to see more. You want them to pick up that phone and call for a viewing.

Remember how you want to show off the most inviting angle of the room. That is the only photo of that room you should show. You do not want to show many photographs of the same room. You do not want to bore viewers with too many photos. Be selective!
A few other photo listing hints
According to
NAR
, 95% of potential homebuyers did some research on the internet. If they do not like what they see there, they will likely never come to view your home. Photographs may not be the end-all, but they certainly could be the invitation to come out for a tour. Also,
Listings with 20 photographs spent less than half the average time on the market than those with only one photo



Listings ranging in price between $200,000 - $1 million sold for several thousand dollars more when they had quality photographs in their listings



Consider showing the photographs in the order in which lookers would view your house in real-time. Show the exterior, the entryway, the living room, dining area, kitchen, master bedroom, and end with the additional bedrooms.
Don't think you need a professional photographer?
Guess again. A pro knows how to get the right angles and has the proper equipment to do just that. One article in the NAR
Realtor's Magazine
titled,
Amateur vs. Pro Photos: See the Difference
. offers a great sampling of how a professional can view and photograph the same room vs. an amateur.

A pro not only has the proper equipment but also knows how to use it to their best advantage to show off your home in its best light. The professional photographs are not only lighter, but airer showing off the room and its views in the best way possible.
If you are considering putting your house on the market, professional photography could just be listing your home's secret weapon. So can choosing the right realtor. In Kansas, contact the top real estate agent for Leawood, KS, and Overland Park real estate.
Check out
the results of the Haley Epps Team
with $40 million in sales in 2021! And look at the quality photographs of their listings. They will happily admit how much good photography matters! Contact Haley, Kristin, or Jill, today!